In 1952, we started our business as a manufacturer in the surfactant industry, focusing on the textile sector by using natural fats and oils as materials. Since then, we have been developing technologies and products, and have built a "creative company" with a spirit of "gratitude" and "harmony." Thanks to the continued support and satisfaction of our customers, we were able to celebrate our 65th anniversary in 2017. Based upon the foundation of unique manufacturing technologies we have applied to our products in the textile industry for years, we have created a family of aqueous products that is rich in functionality and designed to protect the environment while serving a wide range of industries (textile, paper, film etc.).
Because of the way things continue to diversify these days, the speed of technological advancement in industry and the accelerated globalization of the Japanese economy have required businesses to constantly develop new and creative technologies. There is a demand for the development of technologies and products that not only focus on functionalities but which also consider environmental protection.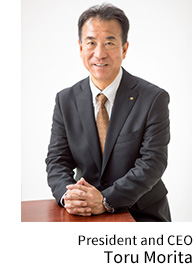 We will continue to focus on the development of creative products that are environmentally friendly. To achieve this goal, we maintain a "spirit of gratitude" to all things at all times, a "spirit of harmony" to work as a team, and a "pioneer spirit" to continuously develop potential new markets throughout the world. We never forget the philosophy of "creative development" and we continue to look beyond existing fields and technologies. We appreciate your help and cooperation, and we look forward to serving you.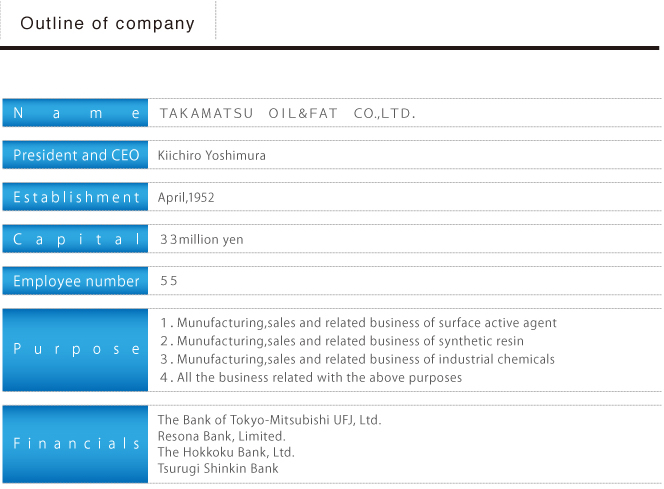 APR.1952
APR.1962
APR.1966

JUN.1970
JUL.1971

JUL.1979
NOV.1983
OCT.1989
NOV.1989
MAY.1993
MAR.1996
MAY.1996
Takamatsu Shoko Co.,Ltd. established
Takamatsu Oil & Fat Co.,Ltd. established
Takamatsu Wax Co.,Ltd established to separate Manufacturing Dept. of Knitting Lubricant Agents
Tokyo Branch opened
Hokuriku Factory building completed
Hokuriku Branch Office building completed
Automatic warehouse and new office building completed
Head Office moved to Sansei RS building
Factory building for dangerous chemicals completed
New Hokuriku Factory building completed
Drain System for the factory completed
Head Office moved to Chuo-ku,Osaka
R & D building completed