In 1952, we started our business as a textile processing agent manufacture using natural oils and fats as raw materials. Ever since then, we have been focusing on developing water-based product having little environmental load. Based on the technology we have cultivated over many years in the textile filed, we have created products chemical products that provide new functions to the surface of various substrate such like paper, film, and metal. At present, our high-functional products have been receiving good reviews in a wide range of fields and applications. As the environmental changes and values diversify rapidly, we also increase the speed of technological innovation.
We will work together with sales and development to find potential new demand in the market as soon as possible, and propose environmentally-friendly, high-functional products by combining new technologies and our accumulated proprietary technologies.
Besides, we will continue to take on the challenge of creative manufacturing that can utilized on various scenes and contribute to various aspects of society.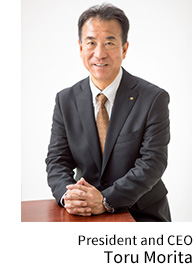 Based on the philosophy of being a "Creative Company", we always have the spirit of "Appreciation" and "Harmony" that we have cherished since our founding and we want to continue to be a company that provides peace of mind and happiness to our customers, employee, and society.
Thanks to all, we were able to celebrate 70th anniversary of our founding in 2022. We would like to ask for your further understanding and support, and we hope to receive your continuous patronage in the future.

Name

TAKAMATSU OIL&FAT CO.,LTD.
President and CEO

Toru Morita
Establishment

April,1952
Capital

33million yen
Employee number

56
Purpose

Munufacturing,sales and related business of surface active agent
Munufacturing,sales and related business of synthetic resin
Munufacturing,sales and related business of industrial chemicals
All the business related with the above purposes
Financials

The Bank of Tokyo-Mitsubishi UFJ, Ltd.
Resona Bank, Limited.
The Hokkoku Bank, Ltd.
Tsurugi Shinkin Bank

APR.1952
APR.1962
APR.1966

JUN.1970
JUL.1971

JUL.1979
NOV.1983
OCT.1989
NOV.1989
MAY.1993
MAR.1996
MAY.1996
Takamatsu Shoko Co.,Ltd. established
Takamatsu Oil & Fat Co.,Ltd. established
Takamatsu Wax Co.,Ltd established to separate Manufacturing Dept. of Knitting Lubricant Agents
Tokyo Branch opened
Hokuriku Factory building completed
Hokuriku Branch Office building completed
Automatic warehouse and new office building completed
Head Office moved to Sansei RS building
Factory building for dangerous chemicals completed
New Hokuriku Factory building completed
Drain System for the factory completed
Head Office moved to Chuo-ku,Osaka
R & D building completed